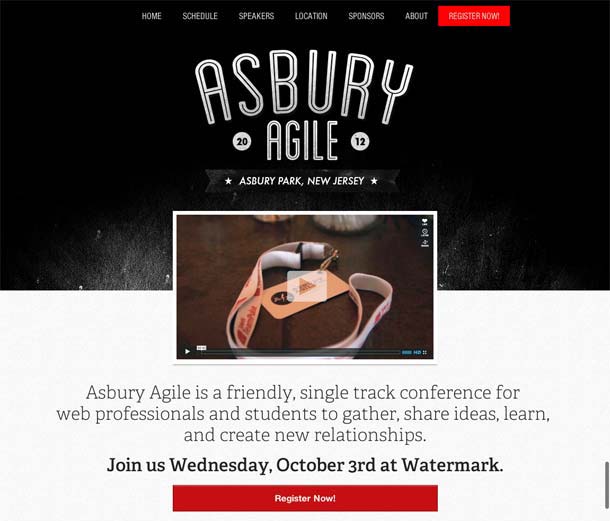 Asbury Agile has launched the site for their second conference, which takes place in Asbury Park, the The Boss' stomping grounds, on October 3, 2012. I'm honored to be one of the guest speakers, to give a talk on interface sketching. There'll be an awesome cast of speakers including Chris Ackermann, Matt Bango, Brad Frost, Sasha Laundy, Kenneth Reitz, Tomer Sharon, Rob Spectre, Srjdjan Strbanovic. Early bird tickets are now available (save $50).
Asbury Agile is a friendly, single track conference for web professionals and students to gather, share ideas, learn, and connect with their peeps. The event lakes place at Watermark, in Asbury Park, NJ. You can follow @asburyagile for event updates.
The video from last year's conference looks like it's a manageable, intimate event that draws a great crowd from the NJ/NYC web development community. I'm excited not only because I grew up in NJ, but I'm also looking forward to chatting with people about interface sketching, and learn from everyone I meet. I will likely be posting some of my thoughts in a new Sketch section I'm working on for the Konigi wiki. Stay tuned.